Real Estate Sign Company in Hudson, FL
Sunshine Posts provides is the premier real estate sign company serving throughout Hudson, FL, as well as Tampa, Pasco, Pinellas, Clearwater, St Petersburg and areas of Hernando. We've become renowned by realty agencies throughout the region because of our ability to fabricate, install, modify and remove house for sale signs. Not only that, but our exceptional designs ensure your name stands proudly in front of houses, for branding that'll grow your business.
Types of Realty Posts
When you need a real estate sign company, we're the ones to call. Our modern round vinyl and gothic cap vinyl posts are low maintenance and more resistant to weathering than other forms of traditional signage. We also offer traditional lumber L-frame lumber posts as well, in white, gold, green and black, to better-brand your agency. With various post heights and signage sizes, we're also able to meet HOA requirements and make sure your sign is visible above walls and hedges.
Royal Post (Lumber)
Conventional Post (Lumber)
Gothic Post (Vinyl)
Modern Post with Info Tube (Vinyl)
Realty Post Installation
We know that when you get a listing, you need to start advertising ASAP. That's why 95% of our signs are installed next-day if we receive the order before 3pm! We can also pick up and deliver panels directly to you, so you can affix them to posts on your schedule. Partner with us and you'll have a house for sale sign up as quickly as possible.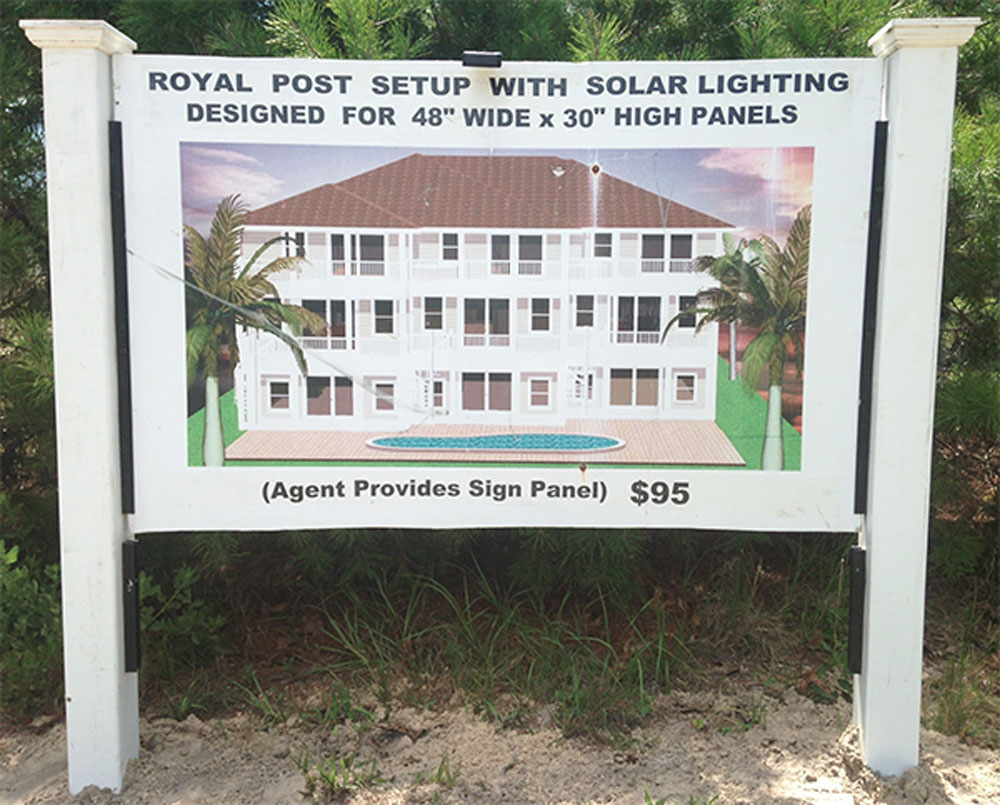 Realty Post Modification and Removal
The housing market in Hudson, FL moves fast. We move faster. If you need to modify a post, call us. We have a large stock of riders in our rider library and can make custom riders to update the listing of your property quickly. We even provide panel and rider storage free of charge.
Need to have a sign removed after a sale or when the property de-lists? Give us a call and take advantage of free removal for posts. Our quickness is what real estate agents appreciate about us most.
Location Fee
$9.00
$10.00
$11.00
$12.00
$13.00
$14.00
$15.00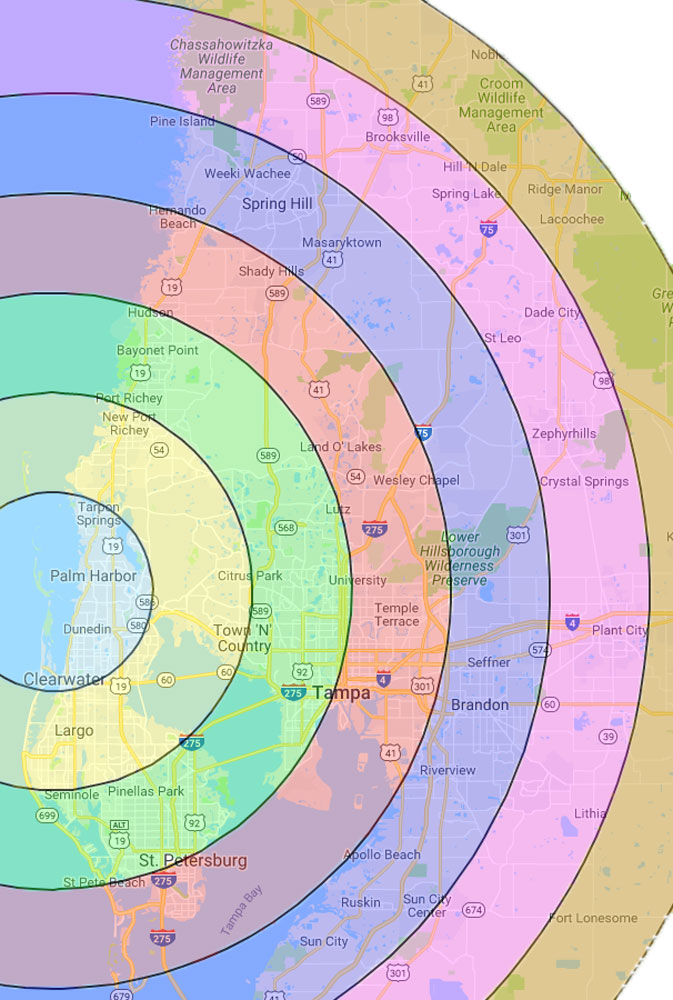 Prices
An initial installation service of two or more posts is subject to one location fee
Any additional services to modify an existing post is subject to a location lee
| Service | Price |
| --- | --- |
| Install Conventional Post (Lumber) | *$18.00 + Location Fee |
| Install Modern Post (Vinyl) | *$18.00 + Location Fee |
| Install Gothic Post (Vinyl) | *$20.50 + Location Fee |
| Move/Reinstall | $17.50 |
| Post Extension | $18.00 |
| Post Removal | No Additional Charge |
| Service/Trip charge | $12.00 |
| Change/Replace panel | $12.00 |
| Info box/Info tube rental | *$7.00/$7.00 |
| Rental rider | $7.00 |
| Custom rider purchase | $12.00 |
| Lost post | $35.00 |
| Lost info box/Info tube | $10.00/$10.00 |
| Out of territory install | Call for Pricing |
| Panel on dock | *$18.00 |
| Commercial Install | $45.00 and up |
| Commercial Rider Install | $20.00 and up |
| Rental Solar Light | From $12.50 |
| | *Single Agent Accounts Add $2.50 |
Establish Your Name in the Market
Nothing gets a potential home buyer's attention like a sign they can instantly see. Let Sunshine Posts help you make a name for yourself in your local market with can't-miss signage. From royal posts for estate-style listings to modern posts with info tubes that give interested buyers direct access to your listing, we fabricate, install, modify and remove signage that sells real estate. Contact us today at 813-925-3983 for more information.